FANATICISMS: A RAPTORS LOVE LETTER
After Rihanna's "Bitch Better Have My Money" came out in 2015, something glorious happened: I started writing an essay (well, it was more of a little red book) about how Rihanna taught me to be a fan. It will likely never be published but here are some bits of it, written too slowly to be the first or even the hundredth #BBHMM thotpiece:
When Rihanna came out in green at the iHeartRadio Music Awards and sang BBHMM, I had known long before I was a fan. But I felt like me, Rihanna, and the world were now in sync. I was her #1 fan and I would die for her. As a teenager, I thought myself too hard to love anything too much. I only loved dead rappers—and snobbery. I remember it like yesterday: I was 14, close-reading Tupac lyrics like poetry and writing my own raps but then crossing out the vulnerable undertones, wanting to sound more like Lil' Kim, hard. One of the lessons I missed, then, was how to love with blinders on.
Why should someone else write yet another love-thing for Rih? I mean, a fan doesn't ask such a fucking stupid question. A fan bleeds from her heart. Even if I didn't want to write about her, I had to. Fans act and react singularly, even if millions of others share the same event.
Still, my fanhood for Rihanna makes sense: you'd be an idiot not to like her. And so, it occurred to me that it was really the Raptors that taught me how to be the kind of fan who disregards others, employs patriotic language, shakes, screams, and dreams up a Raptors-themed TinyLetter she never actually writes.
Especially in the post-Vince Carter era, riled up by a brief stint by his cousin Tracy McGrady, I've never met a Raptors fan who wasn't from Toronto. To love something due to the accident of one's birthplace is an enabling risk and a sexy hell.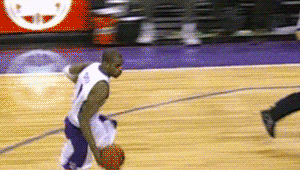 At the time of this writing, the Raptors are the first in the Eastern Conference. All the stats are on our side: this season, we've won many in a row, and sports writers project we will win the most this year than in franchise history. I'm high. We're high. And yet, I've said it before and I've said it again, Vince Carter's missed buzzer beater during Game 7 playoffs against the 76ers was the true peak of the Raptors as a team. It was hard to watch and it's hard to rewatch. I don't give a fuck about objectivity or your dudely sports writing metrics. We often forget that Dell Curry was the one who passed Vince the ball. Dell Curry, father of Steph, NBA sweetheart and star of the 2017 championship finals defeat. So don't ask me about dem Warriors.
In Just Kids, Patti Smith writes that she learned from Robert Mapplethorpe that "often contradiction is the clearest way to truth." The Raptors are my contradiction, my truth: they are a good team but they never get what they deserve. It's only my passionate attachment to something called home—a word I don't have a definition for—that keeps me being a fan.
I'm not the most plugged-in fan. I was in New Orleans recently, walking around and drinking and eating pork and shit. It's not that I didn't have time to watch a game—I can always make time for what I want—it's that it's hard to find a place in the U.S. where the Raptors are guaranteed to be on. Technically speaking, this has to do with ratings, cable, capital. But with social media and with google, you can live the liveness without watching the game as such.
I recently got made fun of by my friend (a guy! obv! ew!) for not having any kind of sports app but for just googling "Raptors" when I'm trying to check the score of a game. Even if I'm lazy or drunk and google "rariws" or "raptos" or "taotors," my phone knows what I'm looking for. After all, "Scraptors" is the team's nickname from my childhood in Toronto. We are wild and scrappy but we also sometimes win. This manner to the top—dogged and unpredictable—suits us, and me. You know, Fetty Wap once said, "everybody hatin' we just call 'em fans, though."
One game this season against the Brooklyn Nets, when Lowry went out with an injury on a Monday and was dramatically carried off like a baby bird who fell out of its nest, I scrolled through his not-much-updated Instagram account, lingering on videos of his two sons, holding a camera in South Africa or counting to ten for the iPhone. My eyes glazed over.
This ball year so far has been full of the kind of rush I can relive over and over: near losses, wild comebacks, near wins. All the things I want, and all the things that make me a fan. I realized my fanaticisms are not worth sharing with non-fans.
Earlier this year, I showed my NYC-born friend the new OVO jerseys and she asked, what's with the black and gold, though?
I corrected her, almost hissing, it's champagne.
Tiana Reid lives and works in Manhattan, New York. She is a writer, Senior Editor at The New Inquiry, PHD student in English and Comparative Literature at Columbia University and editorial staff member at Small Axe Journal. Follow her thoughts and like her images.